Breckenridge is one of the most popular mountain towns in the country. Originally founded as a mining town, the ski mountain and resort community were built around it. The town's rich history, combined with the ski resort's four huge peaks, five terrain parks, two half pipes and eight bowls make Breckenridge The Perfect Mountain, The Perfect Town ™.
Breckenridge lodging options are extensive, and Breck is known for its abundance of ski-in/ski-out choices. After a long day of skiing, be sure to check out the Rockies' best après ski scene in this historic, hip mountain town. With over 200 restaurants, bars, and shops, you're destined to find a good time in this unique, casual setting, not to mention some of the best skiing and hiking the Rockies have to offer.
With a base elevation of 9,600 feet and a summit of 12,998 feet, Breckenridge has one of the highest summits of any ski resort in North America (Arapahoe Basin tops Breckenridge by 52 feet). And with another 543 acres available with the new expansion and addition of Peak 6, Breck now offers 2,899 acres of skiable terrain, plenty to ski during your entire stay. When you purchase your lift tickets to Breckenridge, your ticket is good for unlimited skiing at Breckenridge, Keystone and Arapahoe Basin. With Keystone about 30 minutes away and Arapahoe Basin 40 minutes away, this is a great
Mountain Stats
Trail Map
Mountain Cams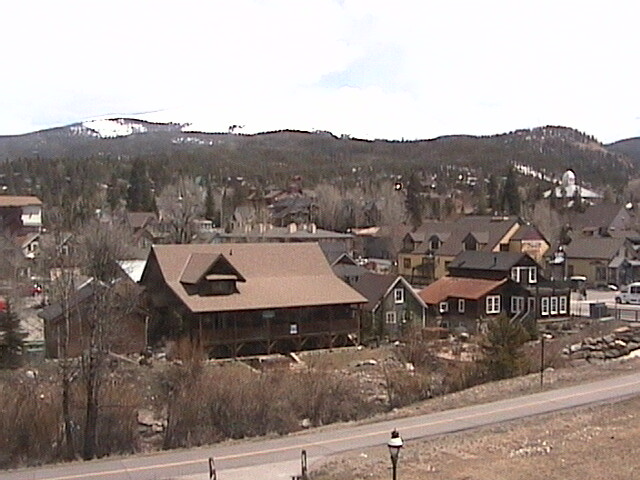 Gondola Town
Featured Blog Post
Breckenridge has long been a favorite vacation destination during the winter and summer months. Originally founded as a mining town in the 1850's, Breckenridge has become one of the most popular mountain resorts in the nation. But what is it that keeps drawing people back to Breckenridge? The quaint mountain town? The great dining options? The great skiing? The convienent lodging? The family friendly activities offered year round? The special events?
I could try to answer this question all day, but in reality, all of these things combine together to make Breckenridge a unique and fun destination:
And while I could write a post on each one of these topics, today we'll take a look at the convenient lodging.
Breckenridge has become well known for its ski in/ski out and village lodging thru conveniently located properties, friendly family services and great value. Let's go ahead and check out 1 hotel, 1 condo and 1 home that have helped Breckenridge grow to be one of the best resorts around.
1 (hotel). The Beaver Run Hotel, located at the base of Peak 9, is a great ski in/ski out property for families and groups who want to stay on the mountain. With the Beaver Run Super Chair and Quicksilver Super 6 chair located just outside the hotel, guests have instant access up the mountain. There is also a selection of hiking and biking trails located just outside the door, great for taking in some of the beautiful scenery of the area. Not to mention, the hotel is just minutes from down town Breckenridge, where there are plenty of shops, restaurants and boutiques to keep you busy.
The property has studio to 4 bedroom suites, with a variety of room types to match your needs. The hotel also has a full service restaurant and spa, and equipment rental is on-site. The hotel is also pet-friendly, and offers multiple pet services to make sure your dog has a great vacation too! If you want to stay on the mountain and are looking for convenient hotel accommodations, this is the place to stay.
2 (condo). One Ski Hill Place, Breckenridge's newest condo property, opened up last year at the base of Peak 8. This prime-time location is great during the summer and winter, as it is located right next to the gondola to town and next to 3 different chair lifts up the mountain. Also located at the base of Peak 8 is Breckenridge's Gold Runner Coaster, a 2,500 ft coaster that weaves in and out of the trees of Breckenridge. This location simply can't be beat, and the full spa, aquatic center and restaurants on-site ensure that you don't even have to leave (even though your should go explore) the residences during your stay.
The property offers studio to 4 bedroom suites, and has a variety of rooms and layouts to fit your needs. Rooms either receive views up the slopes or out towards the continental divide and town of Breckenridge. As with the Beaver Run Hotel, a variety of hiking and biking trails are right outside the door, leaving all of the Breckenridge area open for exploration. This is a great property for those looking for maximum convenience and outstanding amenities.
3 (home). Now for the house – 31 Riverwood Drive. 31 Riverwood Drive is located on a 1 acre lot just outside the town of Breckenridge. This magnificent 5 bedroom home has a private hot tub and home theater, not to mention the flat screen televisions and fireplaces throughout the house. Guests may take in relaxing views of the wooded surroundings and ski resort from the private decks, or prepare a feast in the gourmet kitchen. The home is conveniently located on the shuttle route and there is also a private shuttle that will provide door-to-door service in Breckenridge. For a luxurious vacation in Breckenridge, this home is the perfect fit. So bring your group or family out for a vacation to be remembered!
Well there are 3 of my favorite places in Breckenridge, each with their own pros and cons. Check out the map below to see where all these properties are located on the mountain.
Hopefully this gave you a better idea about how Breckenridge is laid out, and you have a bit of info about these select 3 properties. To continue your search for the perfect fit, check out our Breckenridge hotels, condos and homes, or feel free to give one of our Friendly. Knowledgeable. Locals.® a call today! (855)210-2469